Curtis Kanayok was arrested for second-degree murder and appeared in court Monday morning.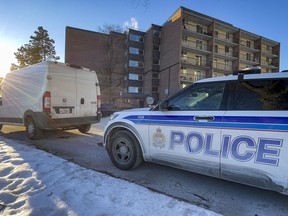 Article content
It came in as routine call for a guy passed out in the lobby of a public-housing apartment building on Russell Road.
Article content
Ottawa police were called at 1:15 a.m. Monday, and patrol officers arrived three minutes later, roused the drunken man and started showing him to his apartment a couple floors up.
When they were escorting Curtis Kanayok, 31, to his unit to sleep it off, the officers spotted what appeared to be blood spatter on the man's clothes, police said.
And when they opened the door to his apartment at 2080 Russell Rd., there was blood everywhere, according to police.
They found Silasie Pillaktuaq, 34, dead on the floor in the apartment. He had been stabbed to death.
Kanayok was arrested for second-degree murder and appeared in court Monday morning to be arraigned at the Elgin Street courthouse.
No details of the case were read into court Monday, a statutory holiday at the provincial courthouse.
Article content
Police did not publicly reveal a theory on motive. Kanayok has been in jail since his arrest Monday shortly after 1:18 a.m.
The stabbing death of Pillaktuaq is Ottawa's first homicide of 2022.
The accused killer remains in jail and is forbidden to contact two people, according to a court order issued Monday.
The police seized the accused's clothes for forensic analysis and are waiting for DNA results.
Ottawa police notified next of kin Monday.
The accused killer is being represented by defence lawyer Rob McGowan. He refused to comment on details about the case because he's waiting for disclosure.
"I've represented Curtis for about 10 years now. His involvement with the criminal justice system has always been at the less serious end of the spectrum," McGowan said.
"The next step for Curtis and me is to review the police investigation and take it from there," the lawyer said.
www.Twitter.com/crimegarden