"I need all Quebecers to make an effort so hospitals don't get overloaded."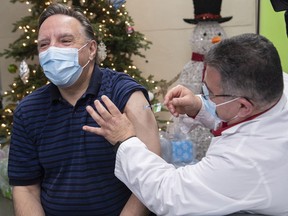 Article content
Quebec Premier François Legault received his third dose of the COVID-19 vaccine Monday at Montreal's Olympic Stadium.
Article content
The premier became eligible for his third shot on Monday. Quebecers between the ages of 60 and 64 can now receive their booster, at least three months after their second dose.
"It's very important, the third dose," said Legault, asking Quebecers to not sit on their laurels after their second injection. "The experts are very clear: with two doses, we are 30 per cent protected against Omicron ; with three doses, it goes up to 75 per cent."
He added that "75 per cent is not 100 per cent" and other efforts are needed to beat the virus, particularly reducing contacts.
"It's important to be careful, to not see too many people, even on New Year's Day," he said. "I need all Quebecers to make an effort so hospitals don't get overloaded."